The Paranial SMS Gateway allows users to manage SMS messages from a desktop or an existing application. The features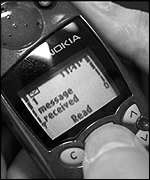 of the Paranial SMS Gateway are given below:
Send SMS messages to one/multiple customers from your database.


Receive replies to outgoing messages.

Reply to incoming SMS messages.


Reports are generated giving the details about all the messages.


Users with a mobile phone anywhere can query your application using keywords that you can quickly and easily setup. For e.g. You can setup a keywords 'TUESDAY' and a corresponding answer 'Trance night - DJ Bryan. 10pm onwards'. Users who send 'TUESDAY' as an SMS to your application receive 'Trance night - DJ Bryan. 10pm onwards' as a reply.


Our SMS Gateway is customizable to add SMS capabilities to almost any kind of application you wish to enable.

The slide show displays the various parts of the SMS Gateway, along with the screen shots of all screens involved in the product.
Click the link below to start.
Start Slide Show.
---
Setting up the SMS Gateway.
The SMS Gateway installation requires running a very simple setup program, which is provided with the CD.
No delays for authorization, registration, etc. You can use the above features immediately after installation.